I am a home body, I love to stay home. I rather "lock-down and chill" than be out and about. But like a tweet I read stated, "it hits differently when you are asked to do it".
There is a huge difference between liking something and doing it voluntarily, and being forced to do it. Somehow, because the choice seems to be taken from you, it hits harder.
Also, we are social beings, we need that interaction from time to time, but due to the new cool word in town, social distancing…we have to maintain our personal space.
It's crazy to think that just a month ago, we were making plans, planning trips, going out to eat and the likes, and then suddenly something that looks presently to be beyond our control (hopefully not for long) limits our movements.
Life can be so unpredictable.
Here are six tips to stay sane while staying home
1. Get dressed
It might sound a little 'off', when you have no where to go, but waking up as you would any other day, taking a shower if you are one of those who loves a morning shower and getting dressed sets the right tone for a productive day.
Being in pj's all day, personally is a recipe for chill. Just know I may be in bed all day, and get almost nothing done.
Immediately I take a bath and wear, "going out clothes", I become more alive and productive. You could even thrown on some make up for the extra vibe.
2. Unplug
It is very important to unplug.
It is great to keep up with happenings around you, but it can easily become an overload all too quickly.
At some point in my life, I would have tagged myself a social media addict, thankfully not anymore. So I know firsthand, the anxiety you can get from constantly being bombarded with a lot of information.
By all means, check up on what is happening, but take time aside each day, to unplug, rest your mind and be calm.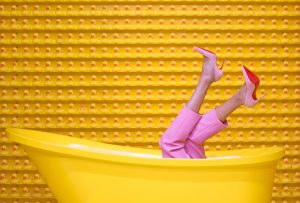 3. Call/Chat up friends
At this point, it is important to talk to friends and family.
You can practice social distancing, and still make calls and chat with friends. You know Social-Distancing, distant but still social, you get? OK, not really, but you see my point.
We can always Netflix and chill over the phone.
4. Journal-ling
These are times of uncertainty, and when there is uncertainty, it can easily affect our mental health. Journal-ling is one way to release all that stress.
It helps you get out of your head and can be very calming. Sometimes, it helps you put things in proper perspective.
Even the person considered "so strong" can have a mental breakdown.
There are times when I can't just explain to anyone how I feel in a way they might understand, journal-ling helps then. I also know that when I am angry, sad etc,  for whatever reason, writing about the situation, somehow makes me feel a whole lot better. Even happy moments deserve to be documented.
It is all about staying sane.
5. Have a daily plan
It may not be so detailed, and all the lines may not be dotted right down to the T, but it is great to have a plan. It just entails having a general idea of what you want to do each day.
There are a lot of things left to chance, but planning reassures us, that at least some aspects of our lives are still functioning, and under some form of control.
Just waking each day and letting the day just happen to you, is a big 'No' for your sanity.
6. Find a task/project to accomplish
It may just be something as simple as folding the laundry, or even cleaning out the garage you have putting off doing for so long.
Tip for task/project: Always work at the time you are most productive.
How has it been for you social distancing? And what ways have you been able to maintain sanity, or some form of normalcy?
PIN THIS!