When you find that special someone, you may sometimes run out of words to properly express the way you feel about them. Here are some beautiful love quotes that you can use to express your love to your loved ones.
Love is indeed a beautiful, when you are with the right person. The beautiful thing about love is that it does not discriminate, regardless of who you are, you have the ability to love and the opportunity to be loved in return.
love is such a powerful force that it changes a whole lot in a person.
With all the crazy things happening in the world presently, showing love to someone could go a long way to eradicate some problems. The world needs more of love. Someone needs you to show them that you love them today.
Here are some beautiful love quotes to help you express your love to someone today.
1) I can talk to you for hours and not get tired of your voice or your laugh. I could never get tired of seeing you smile.
2) We are a mess you and I, but the truth is, you captivate me in ways no soul ever will.
3) I'll always love you like its the beginning.
4) I didn't wanna fall in love, not at all,  but at some point you smiled, and, holy shit, I blew it
5) Your smile. Your eyes. The way you laugh. The way you talk, they way you walk… I could stare at you forever
6) If you love somebody, let them go, for if they return, they were always yours. If they don't. they never were.
7) You are pretty much always on my mind.
8) I wish you could see the smile that lights up my face when we're texting.
9) You are my favorite notification.
10) I smile at the phone whenever I see your name come up on my screen.
11) No one is perfect, they say, but you are my definition of perfect.
12) Your smile drives me crazy.
13) Whenever I get the chance to talk with you, my day gets better.
14) I wake up in the morning and you are the first thought on my mind
15) I love you just the way are, all your flaws, mistakes, smiles, giggles, jokes, sarcasm everything.
16) I fell in love with you because you loved me when I couldn't love myself.
17) I love absolutely everything about you, the way you smile,
18) Every-time I see you, I fall in love with you over and over again.
19) Meeting you was the most amazing thing to ever happen to me. You are the best Gift, life has blessed me with.
20) I don't know how you do it, that even on my bad days, you make everything seem OK
21) God smiled on me and gave you to me as proof of his love.
22) The day I met you, I never knew you would become the most important part of my life.
23) Every time I feel troubled, I just think of you and peace comes into my soul. That is the power of your love.
24) I will choose you over and over again.
25) Your love is all I want. I have searched for someone like you all my life, now that I have found you, I am never letting you go.
26) I want you for the rest of my life but even that doesn't seem long enough.
27) My love for you will remain for all of eternity, both in good and bad times I promise to always stand by you.
29) Words however special, fail to adequately describe the way you make me feel.
30) No matter what challenges might come our way and threaten  to tear us apart, we will always find our way back to each other.
31) Never leave a person who touches your soul more than your body.
32) I want to grow old with you. I want to hold your hand at 90 and say, "We made it,"
33) Every time I look at you, I wonder how I got to be so lucky.
34) I want to be there for you, sharing in everything you do.
35) The wrong person makes you beg for attention, affection, love and commitment. the right person will give you these things because they love you,- Sonya Parker
36) Love someone who is kinder to you than you are to yourself.- Nikita Gill
37) I hate waiting, but if waiting means being able to be with you, i'll wait for as long as forever to be with you.- Your tango
38) You know you are in love when you can not sleep, because the reality is finally better than your dreams. -Dr Seuss
39) Love does not recognize any barriers. He jumps with barriers, jumps through fences, penetrates walls to achieve a goal full of hope. – Maya Angelou
40) Just because I don't start the conversation, it does not mean I am not longing to speak with you.
41) Sometimes just hearing your voice is all I need.
42) For once, I want to be hard to leave. I want to someone staying up all night thinking about me.
43) Its so hard for me to put you into words, because I love you in ways I have never loved anyone else.
44) I do not care how complicated things may get, I still want you.
45) Lets not waste the rest of our lives wondering what could have been. – Perry poetry
46) A person who really loves you, would never put you in a position that they could lose you.
47) When there is a strong bond between two people, the universe also tries to search for ways to bring them together no matter what.
48) Something about you makes me feel a little more alive and far less lost.
49) Learn me slowly. please be patient with my pages.- Pavana
50) Lust rushes, but love waits. – Bridgett Devoue
51) Feelings that come back, are feelings that never left. – Frank Ocean
52) Even the shortest conversation with you makes me smile.
53) I know I'm not easy to love. I am a chronic over thinker and I react more than I should, and every once in a while, I might be a little insecure. But if I am in love with you, I can promise you wholeheartedly that you will be loved with so much passion and intensity that you  will forget what life felt like before I came along. You will always be cared for and you will always have someone in your corner. – Chelsea Carroll
54) Sometimes, I sit alone just thinking about life with you. I appreciate how much better my life has become with you.
55) I find it hard to trust anyone, because I have been hurt so much before, but I can't stop myself from thinking about you. I am willing to take the risk and open my heart to love again with you.
56) They say home is where the heart is. My heart is with you and I am home with you.
57) I wish I could explain your eyes, and how the sound of your voice gives me butterflies.
58) Sometimes, I wonder what you see in me, that makes you love me the way you do.
59) I just want to make you happy, because you are the reason that I'm so happy.
60) You came into my life suddenly, and now you mean the whole world to me.
61) You are my love story, and I write you into everything I do, everything I see, everything I touch and everything I touch and everything I dream, you are the words that fill my pages. – A. r. Asher.
62) I love you and that's the beginning and end of everything. – P. Scott Fitzgerald.
63) Chemistry between two people is the strangest science of all. – Bridget Devoue
64) Believe me when I say, I always think of you. No matter how busy I am. No matter what I'm doing. My brain is constantly thinking of you.
65) You are everything I was made to believe was asking for too much.
66) One day you will ask me what is more important? My life or yours? I will say mine and you will walk away not knowing you are my life. – Khalil Gibran
67) And in those moments, when you feel afraid to trust love, remember that I crossed a great ocean of loneliness to find you. Mine is not a fair weather heart. It was built to outlast storms. – John Mark Green
68) He was the ember of a love long past and she was the flame that came and set him ablaze. – Ariana
69)  You can't stop the feelings you have for someone. You can't lie to yourself either. Your heart knows the truth all to well.
70) If two past lovers can remain friends, either they never were in love or they still are.
71) The most important thing in life is to learn how to give out love, and to let it come in. – Morrie Schwartz
72) Love when you are ready, not when you are lonely.
73) The greatest gift of all, is the ability to love.
74) Everywhere I look, I am reminded of your love. You are my world.
75) When I look into your eyes, I see the mirror of my soul.
76) You know its love when all you want is for that person to be happy, even if you are not part of their happiness. – Julia Roberts
77) Thank you for always being my rainbow after the storm.
78) Keep love in your heart. A life is without is, is like a sunless garden when the flowers are dead. – Oscar Wilde
79) When I found you, I found the rest of my life. When I found you, I found love.
80) You are perfectly made for me. You are the reason I belive in love.
81) I may not know what the future holds, but I see you in my future and that means all is well.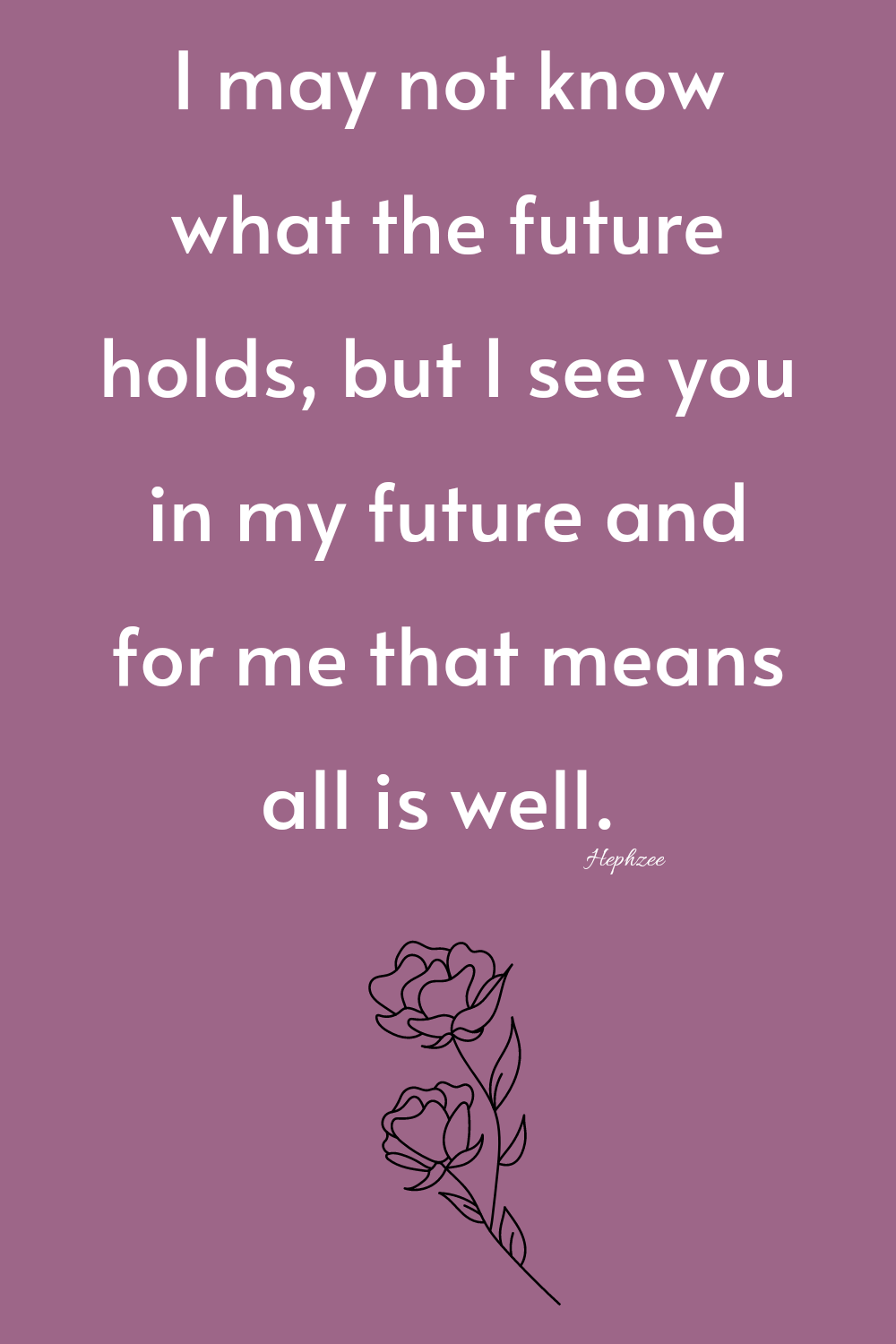 PIN THIS FOR LATER!